Software as a Service (SaaS)
Open, modular, scalable, cascadable
Knowing that even the best hardware can only fulfil its function if the technology is given the appropriate software (intelligence), we are developers and engineers at heart: we code, tinker, test, take systems to their limits and take them beyond, in order to create a highly efficient, powerful whole from the sum of individual parts.
We develop platform solutions: open, modular, scalable, cascadable and ensure the interaction of the most diverse modules. Interfaces integrate our broad portfolio of security & service robots and enable machine-to-machine (M2M) communication of mobile and installed components with each other, with control centres of all kinds and their software.
While the modules of the platform solution such as ROI serve as the core element of the integration and also form the underlying network for a communication, the robots themselves also have highly developed "brains". Depending on the model, one or more computing units are on board, which, in addition to navigation, the calculation and partial evaluation of camera and sensor data, naturally also ensure autonomy. Routines and algorithms provide the 100% reliable basis for use, and AI components allow the robot to constantly learn, understand and deal with situations, for example, efficiently avoid obstacles, react to events more quickly and reliably.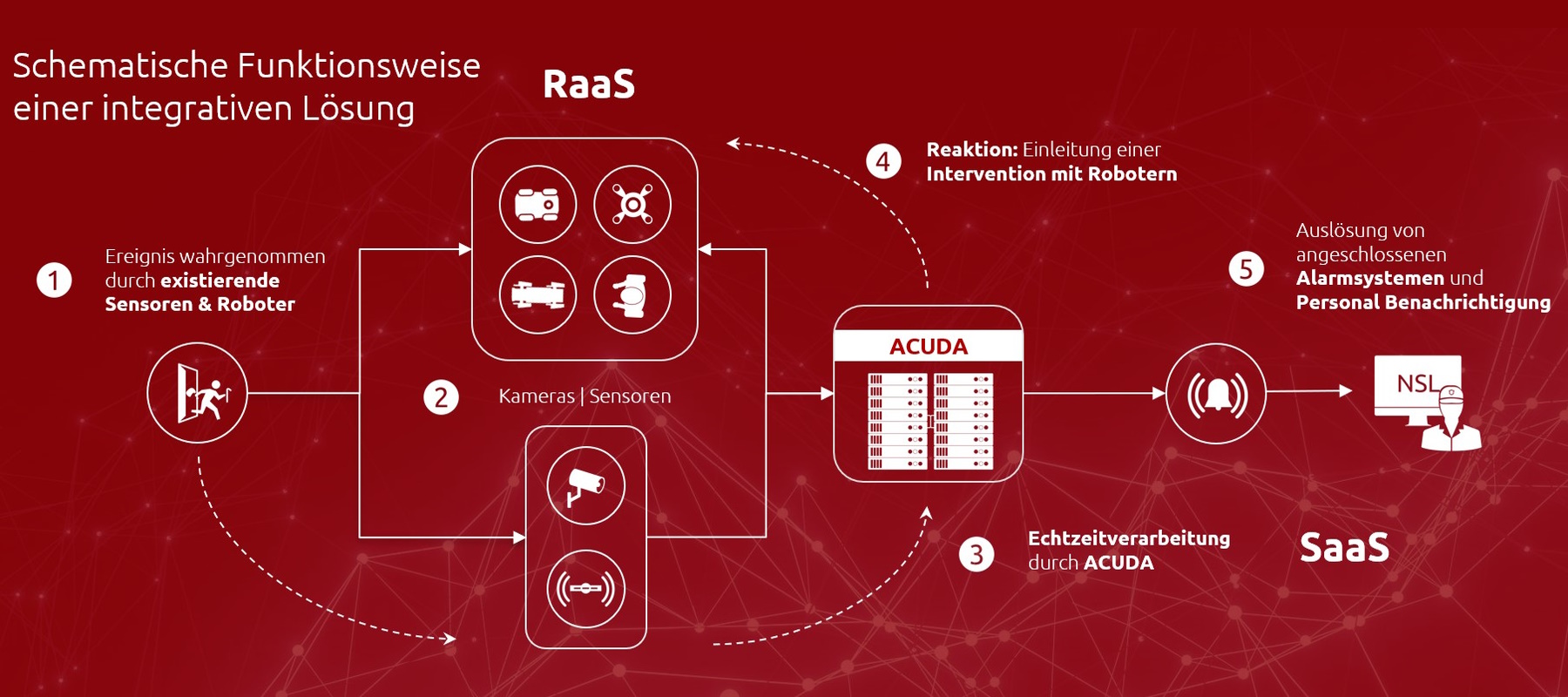 ACUDA
Autonomous Center of Unified Digital Actors – Core of all Security Robotics innovations. Integrates all IoT devices + robotic solutions and expands their features and areas of application.
INTEGRATION
Normalisation of alarm formats, which collects the information from different activators, "translates" it, compares it, standardises it and passes it on as a bundled signal. Status comparison of all IoT devices and transfer to control centre, staff, etc.
SOFTWARE AS A SERVICE
Our reliable & ongoing support in the service format guarantees the trouble-free operation of all systems and their supply with security updates, new features and module versions in the long term.
Different software modules function independently as part of the platform solution and are specialised in certain (partial) aspects. Depending on the task, we use the necessary modules, which mesh perfectly like a well-oiled clockwork. This clockwork represents the core of the platform and all interfaces, IoT, components in the network and external systems such as control centres are connected to it and layer upon layer around this core.
To ensure optimal functionality at all times and to provide the customer with security + stability updates and feature upgrades in rotation, we offer our software exclusively in the SaaS – Software as a Service model.
Would you like to see our robot solutions up close and personal, acting as a team? Do you already have certain application scenarios in mind, eager to find out whether and which models are best suited for them? Then don't hesitate any longer and contact us!