Bird's eye view for the best overview
Flying robots are terrain-independent, perfect for medium to large areas
The Beehive drone system in operation
Aerial surveillance is one of the most effective protection methods available. Frequent and unpredictable air patrols detect and report intruders or anomalies reliably and quickly – and secure evidence at the same time thanks to intelligent video analysis. The use of the drone as an alarm check is popular. For example, if a fence sensor reports movement, a drone can be automatically sent to the alarm location and provide clarity via live video.
The Bee
The lightweight drone offers safety and performance. It features sophisticated technology for autonomous flights, high-quality video recording and precise landing and recharging – every time.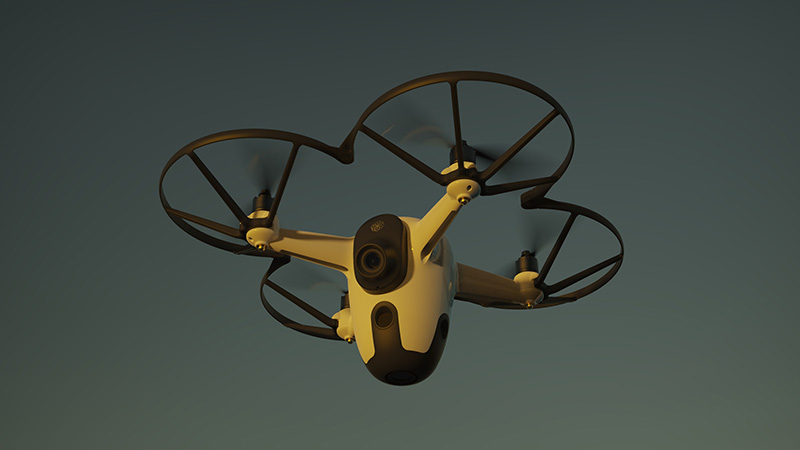 Weight (including battery): 1,5 kg
Case size: 34×34 cm
Total size (including propeller guard): 57×57 cm
Propeller size: 22,9 cm
Flight speed: 4 m/s
Operating flight time: 15 Minuten (+5 min. Sicherheitsreserve)
Wind velocity resistance: 20km/h oder 5,6 m/s
Gust resistance: 30km/h oder 8,3 m/s
Operating temperatures: -10°C bis 40°C
Hovering accuracy: 30 cm
High precision GPS/GNSS navigation systems with RTK
Camera-Sensor: Sony IMX385
FOV: 50° (v), 100° (h)
Resolution: 1920 x 1080 Full HD
Min-Bandwith: 2Mb/s
Video latency time: ~250 ms
Obstacle avoidance area: 6m
Maximum transmission distance: 300m
Akku-capacity: 4000mAh
Charging time (from full discharge): 25 Minuten
The Hive
"The Hive" doesn't just house and load "Beehive" – it is the brain of the entire system, processing and analysing sensor data using state-of-the-art embedded AI computers.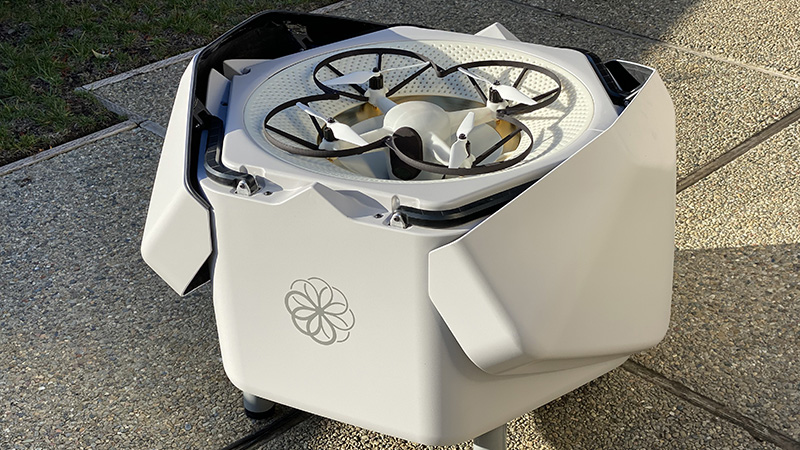 Weight: 45 kg
Dimensions when closed: 79 x 87 x 89 cm
Dimensions when opened: 79 x 120 x 80 cm
Power supply: 110V oder 220V AC
Running time with backup battery: 1 h
Connections: Wifi & Ethernet + optionales LTE-Modem
Operating temperatures: -20 bis +50 °C
Very fast
Reaches any point within a defined radius in a few seconds.
Videorecording
Streams all information during the flight and allows recordings for preservation of evidence
For big areas
Secures large areas reliably from the air
Report to control center
Reports reliably to the connected control centre