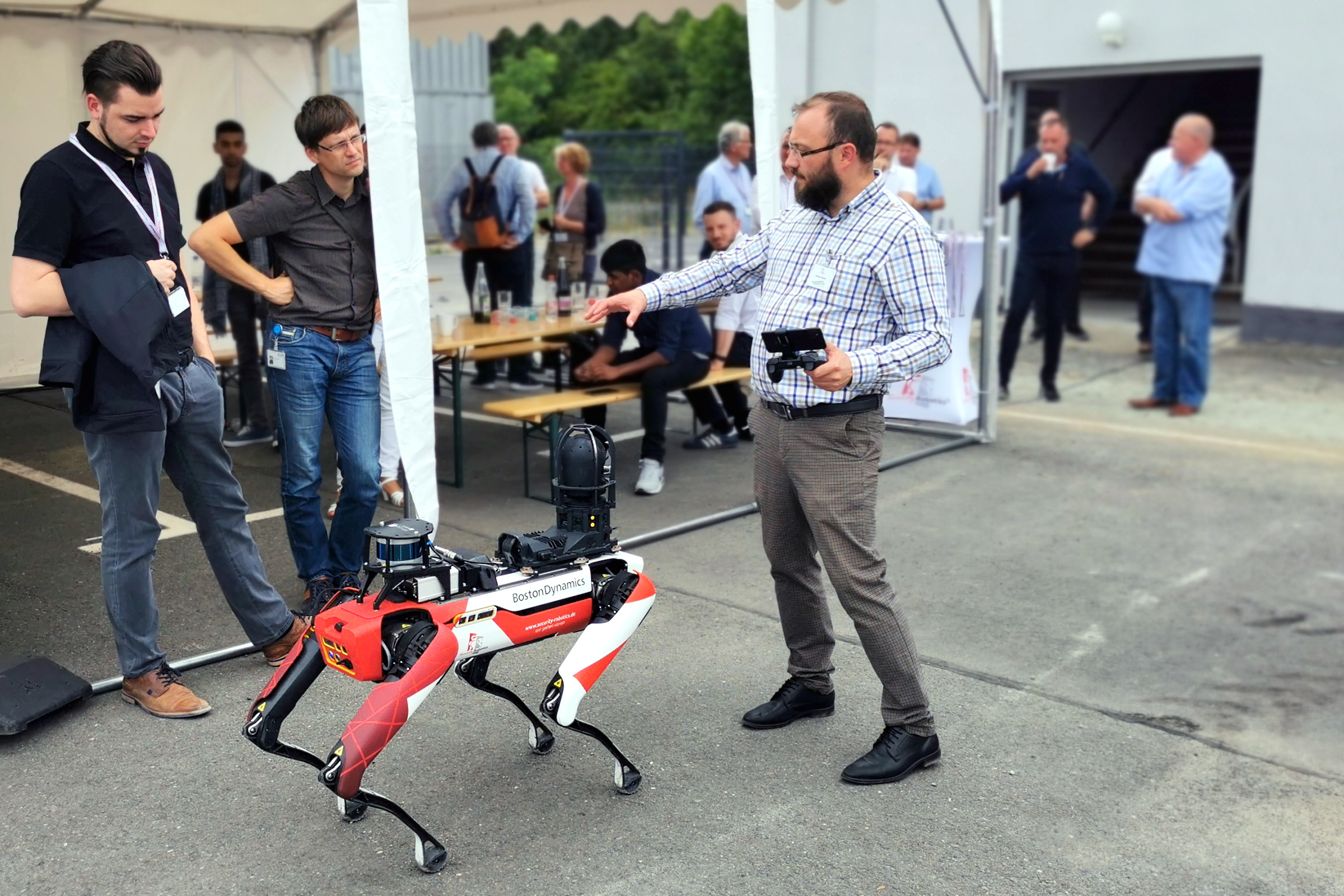 "Today's innovation is tomorrow's standard."
Especially in the field of robot systems and the associated hardware, sensors, software and network technology, this saying is 110% true. And so it is only logical to hold our Innovation Days several times a year. For yesterday's event, we once again invited representatives of renowned associations and companies to get a personal (first) impression of the robot systems and to get in touch not only with our consultants, developers and integrators, but also with the robots themselves.
Among others, we welcomed participants from a wide range of industries such as logistics, transport, aviation, chemicals, consulting, finance, trade, security services and facility management.
Remarkably, many companies sent not only one representative, but appeared with several colleagues. Thanks to the large number of application scenarios, it is increasingly not only heads of security departments who are interested, but also other departments / decision-makers / project managers who attach great importance to robot solutions.
Hands-on – Security Robots up close
As usual, Spot attracted the most attention right from the start. It is always interesting when a dog-sized robot elegantly avoids obstacles, climbs stairs with ease and delights everyone present with its child's play operation. But it was not only Spot that knew how to present itself skilfully.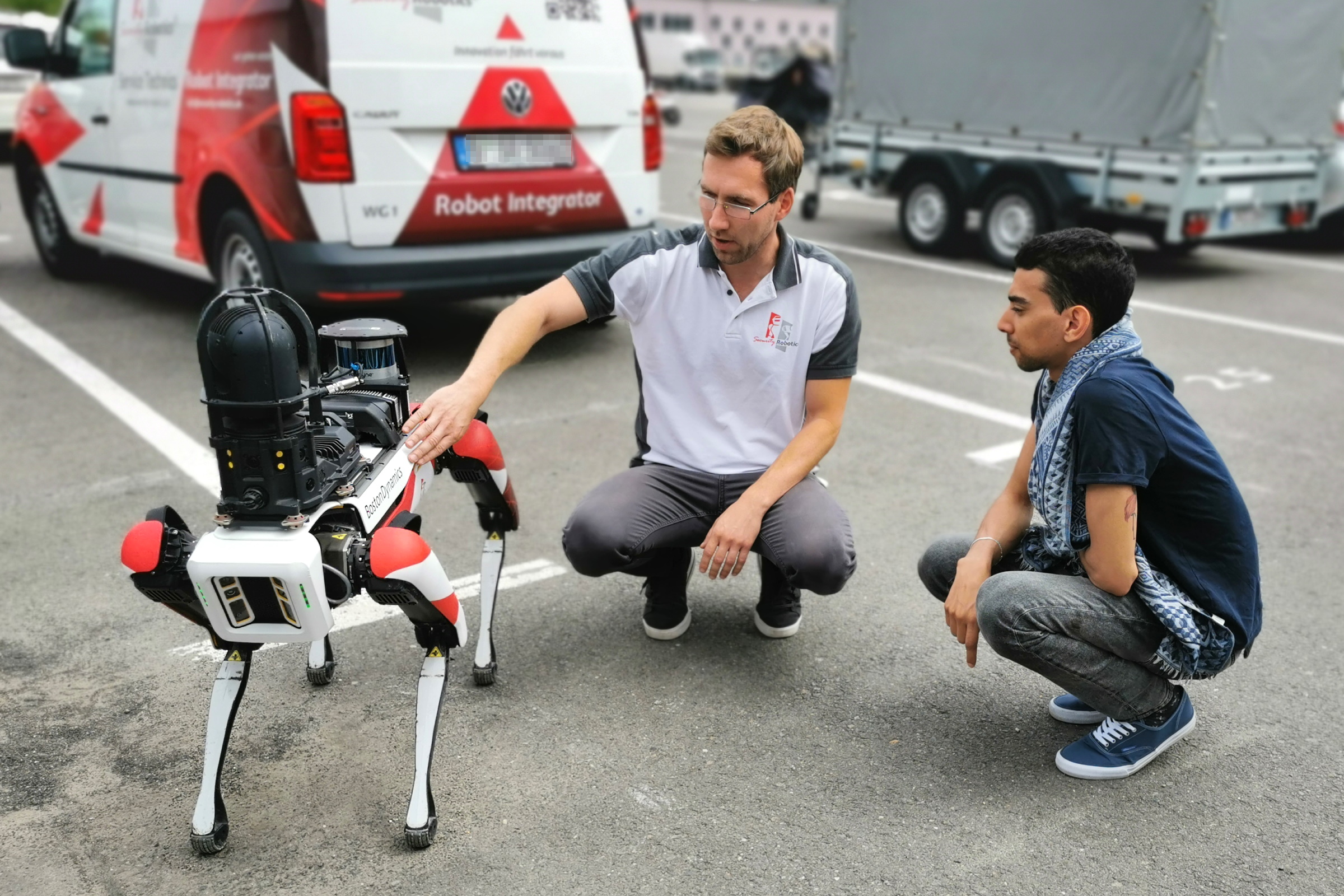 Argus patrolled the grounds constantly during the event, proving not only his stamina but also his adaptability, as he had to dodge various participants or vehicles and turn lap after lap precisely and true to track on a wide variety of surfaces.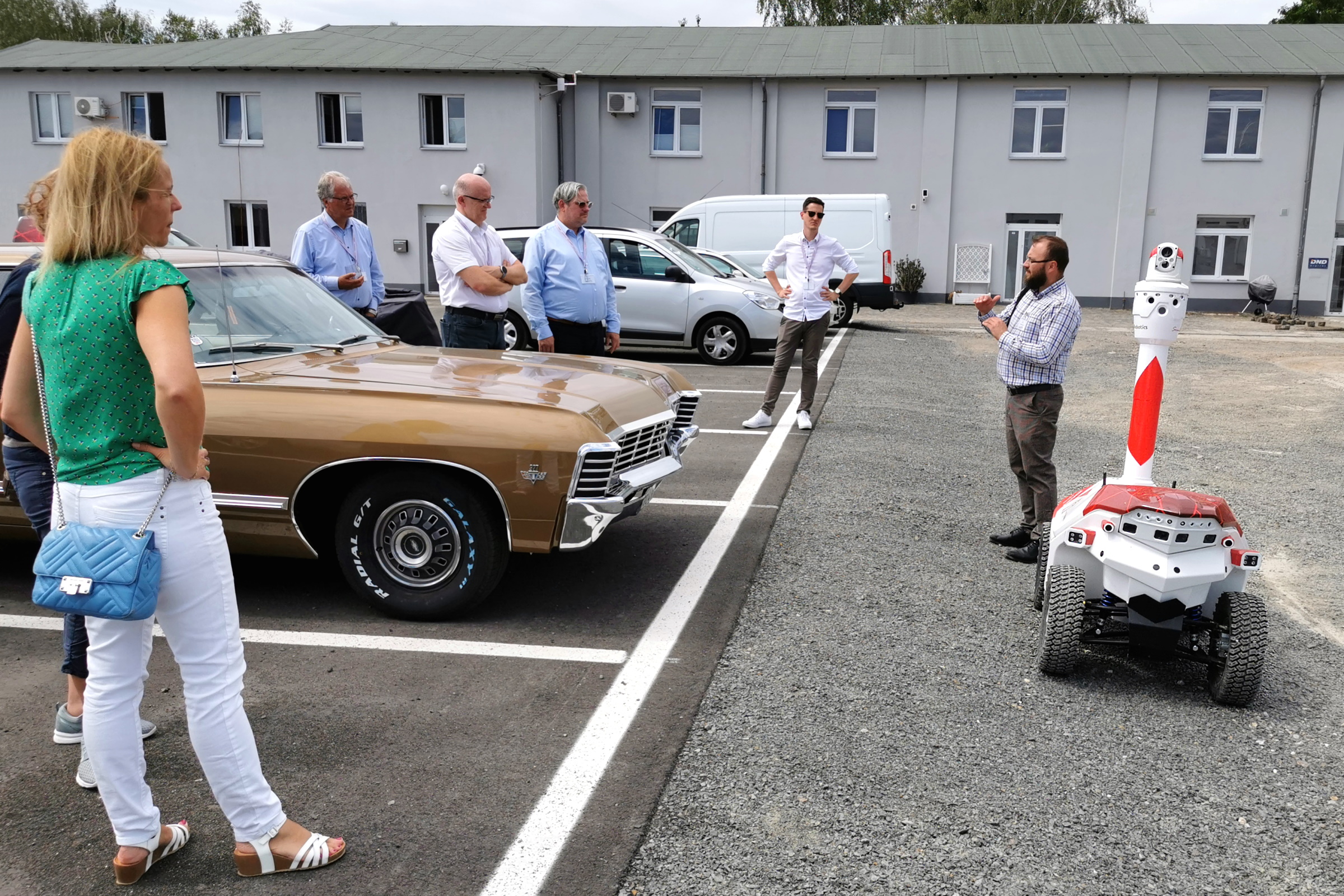 The Beehive drone system demonstrated the perfect interaction of several security components by autonomously reacting to messages from the 360° WATCHDOME© video towers positioned at the perimeter of our test site and flying to the alarm points for quick verification and video documentation of incidents. If required, SPOT or ARGUS could also have responded and investigated incidents accordingly. Hybrid solutions of this kind clearly show the increased added value when all components skilfully play to their respective strengths.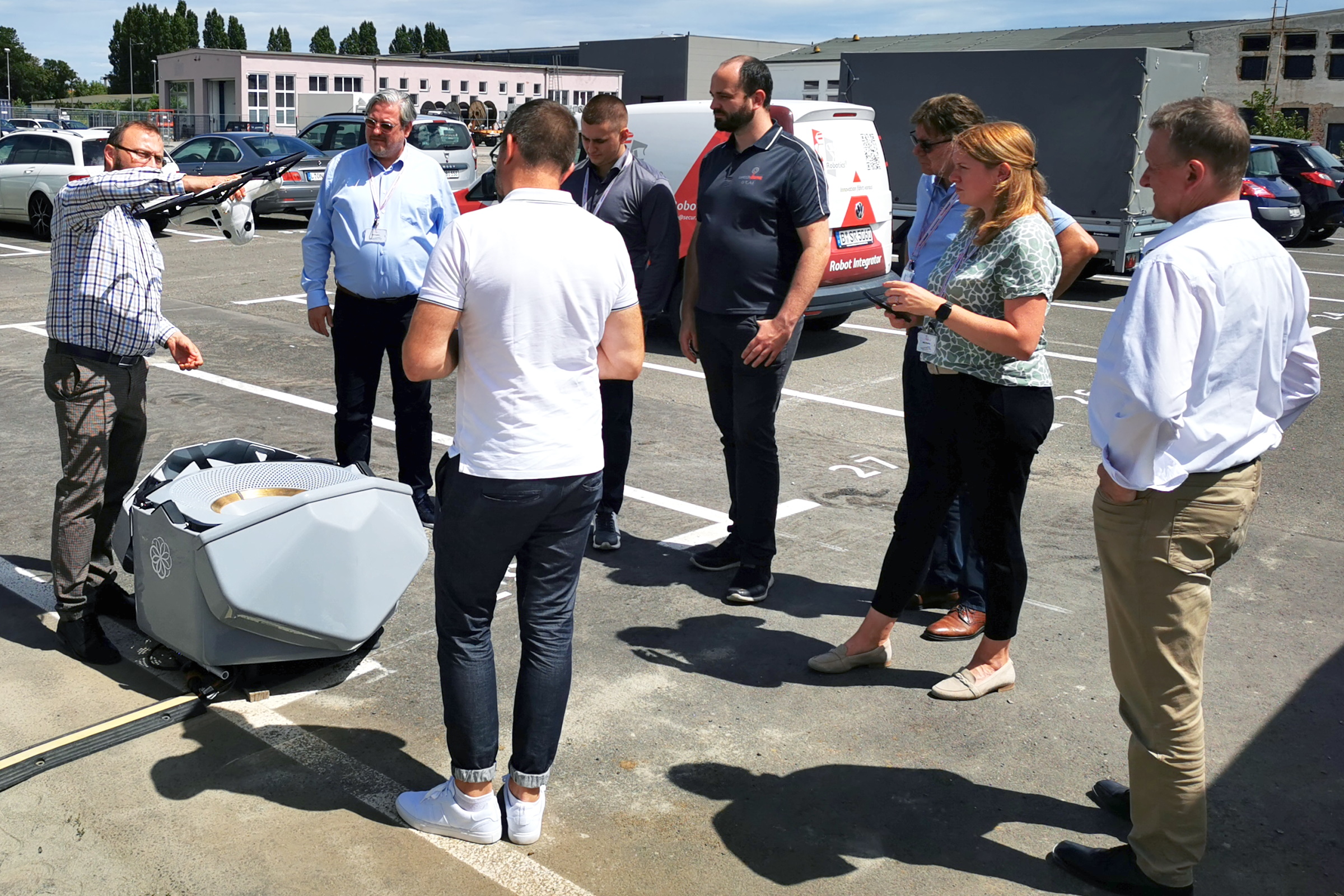 During the demonstrations, individual questions were asked again and again, because practice is more convincing than any video or textual description, and approaches for joint safety projects using modern robot systems emerged.
A real highlight for the group was their encounter with Promobot, who, as usual, charmingly made any fears of contact evaporate. Strong in communication, multilingual, bidirectional and equipped with many useful additional functions, the model is especially equipped for reception services, whether as a concierge, at trade fairs, at airports, foyers, etc.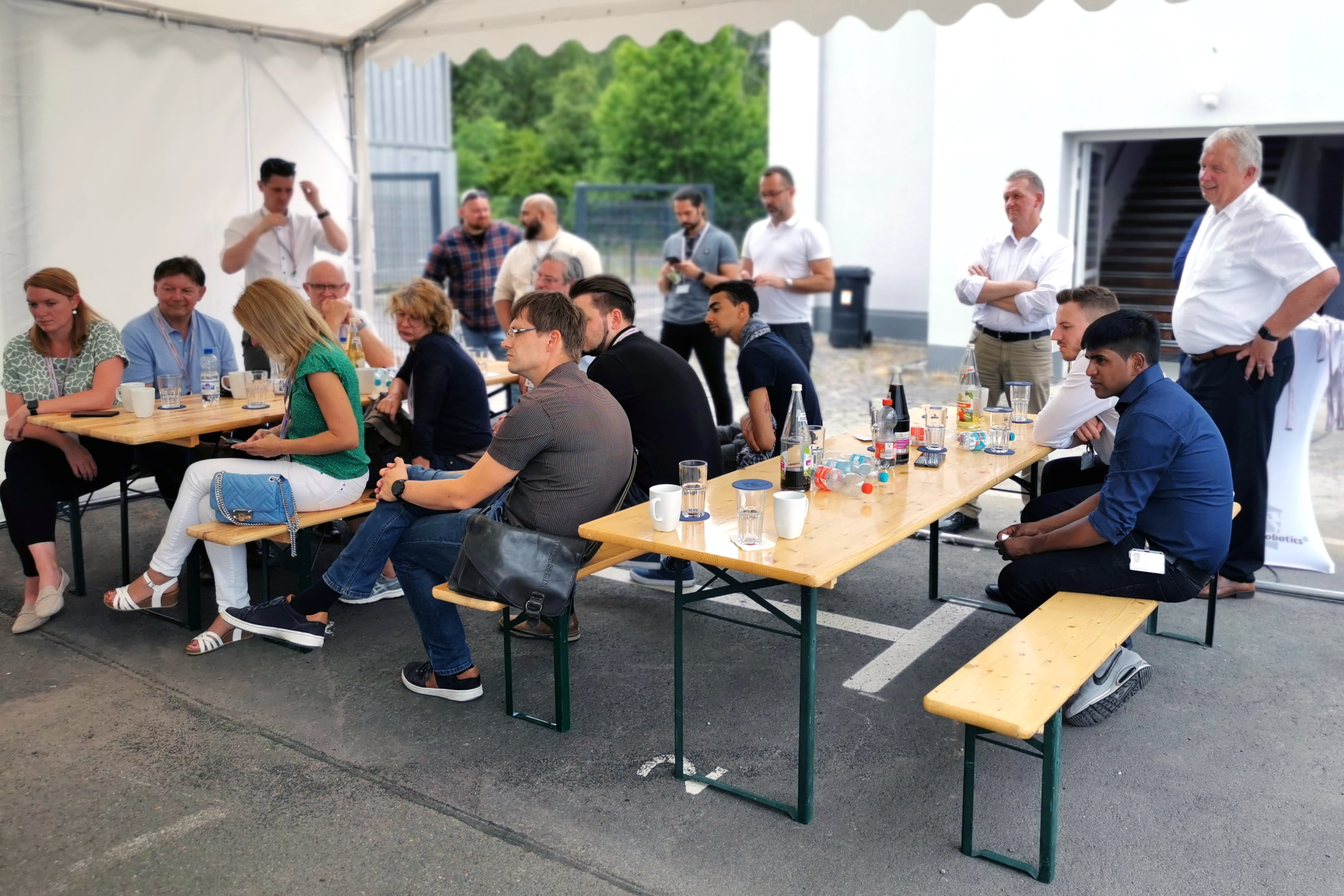 And so it became clear once again that after the presentation of all models and the impressive presentation of integrative safety concepts, not only Spot but every model deserved attention and was able to convince with special strengths.
Even at the Innovation Days, not every special case, not every individual customer requirement can be dealt with in detail, and this is not the claim of Security Robotics. Instead, it will be a matter of working out possible applications and individual concepts in customer-specific on-site meetings and close exchanges. We would like to thank all those present for their visit and are already looking forward to the challenges ahead, are you?
CONTACT FOR PRESS & COMMUNICATION:
Michael Engel | m.engel@security-robotics.de
Landsberger Allee 366, 12681 Berlin
Telefon: +49 341 2569 3369