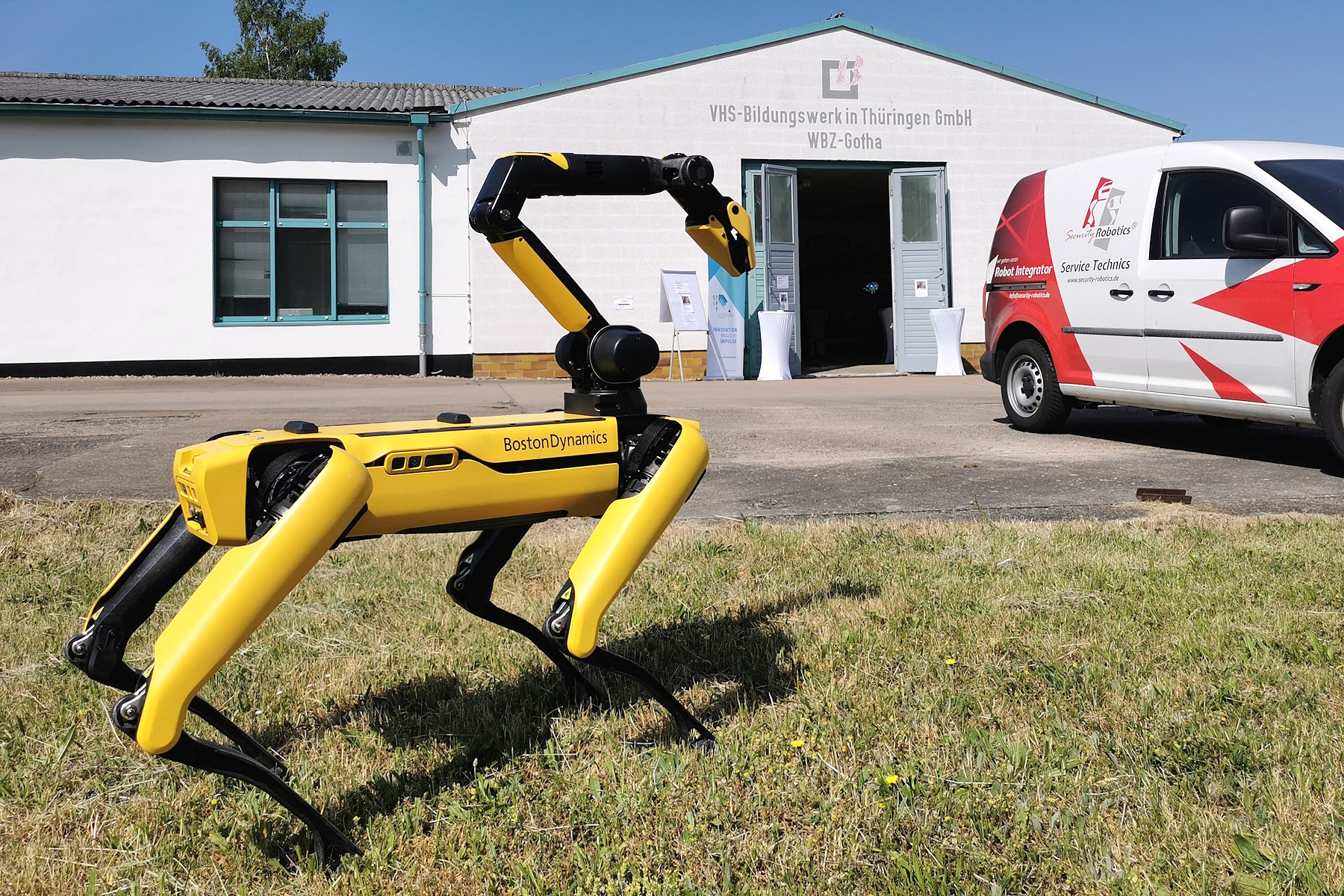 1 idea, 1 month, 5 events.
The Security Robotics Roadshow was a complete success and made the month of June a particularly exciting and varied one for our team. The approach of participating in very different locations / events and thus informing and even inspiring a very broad and heterogeneous audience about the digital networking of autonomous robots + innovative sensor technology + established security technology + AI-supported software platforms was a complete success.
We demonstrated various robots in a practical and up-close manner, lectured, informed and argued with both young students and experts. Above all, it was noticeable that fear of contact disappeared, curiosity continued to grow and more and more people were looking forward to coming into live contact with innovative technology. Depending on the event, this led to very professional or simply relaxed conversations, which showed us that robotics has found its place in the middle of society.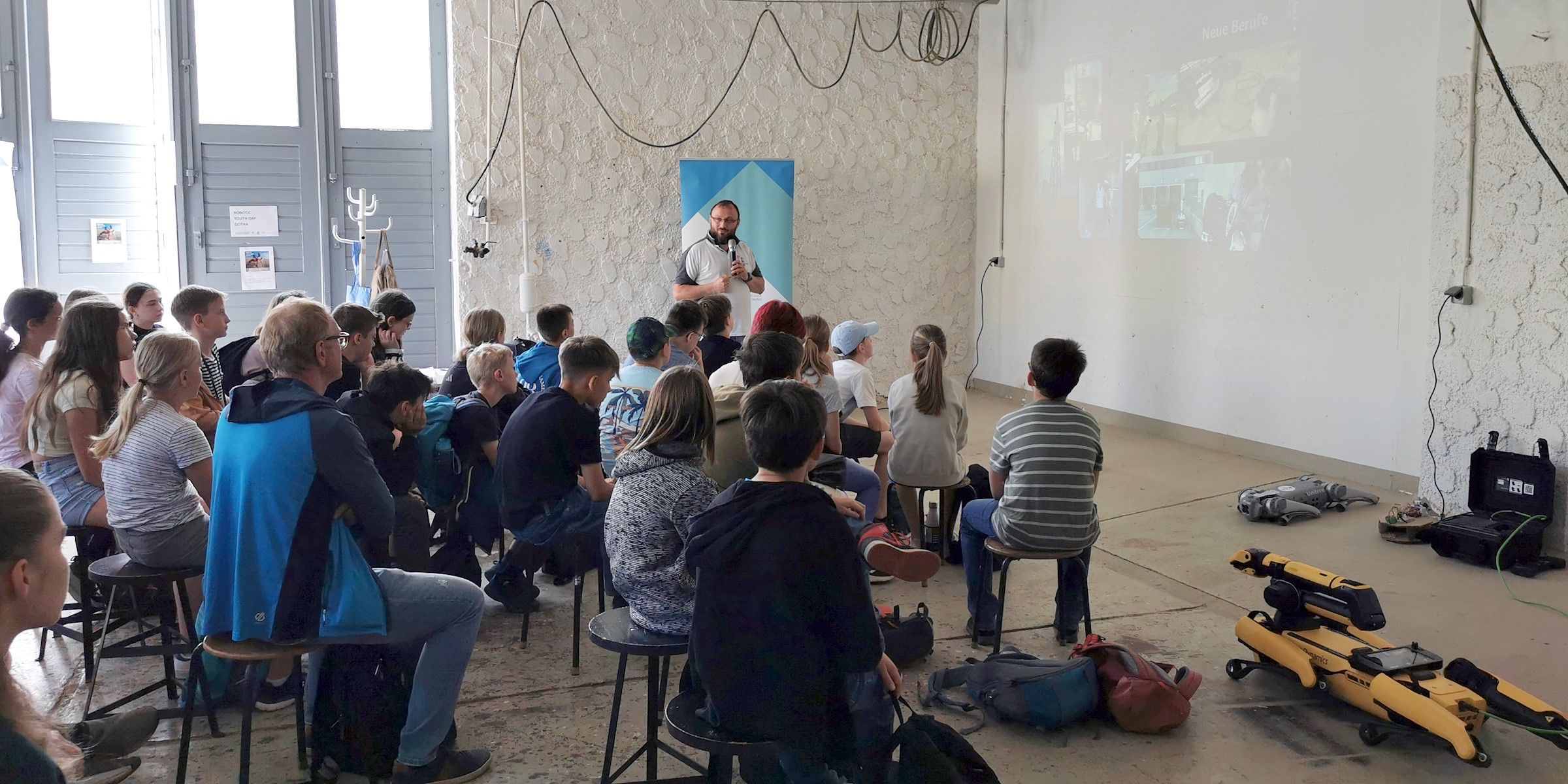 We started in Gotha, at the Robotic Youth Day, organised by the MINT Region Westthüringen and STIFT Erfurt. At the student research centre, we explained to the inquisitive students why and what we use autonomous robots for and gave them the opportunity to get to know Spot and Go1. There is a big difference between watching one of the walking robots on YouTube and meeting them yourself. The well-organised event (05.06.) also gave us the opportunity to exchange ideas with educators and teachers who introduce children and young people to exciting future technologies every day. After all, what still arouses amazement today should and will be a natural part of the everyday and professional life of the next generation in a few years' time.
Week 2 took us far north to Lübeck, where we had the pleasure of being guests with Spot at the Martens and Prahl marketplace (15.06.). The contrast could not have been greater: instead of dozens of children, more than a thousand "business people", instead of a factory hall, a chic congress centre and instead of curious children's questions, discussions about ethics, insurance, liability issues. The perfect setting was also matched by the sunny weather, which allowed us to roam inside and outside the premises and gave the 4-legged friend the opportunity to impressively demonstrate his agility on steps, stairs, narrow passages and in the midst of many groups of people. Lübeck itself showed itself to be a cosmopolitan city and the great interest that AI and robotics will naturally also become increasingly important in the insurance industry.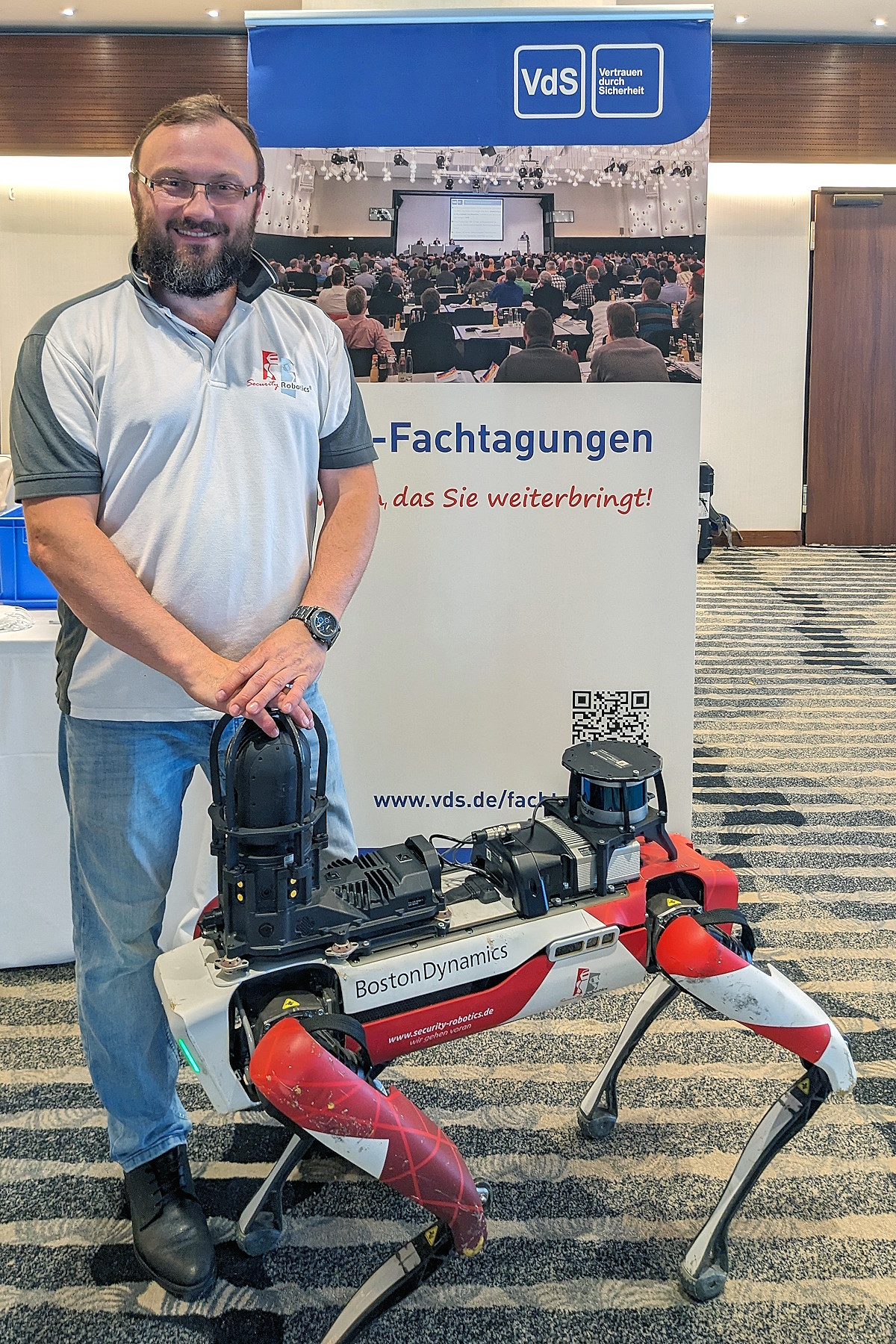 In the third week of June, Muchtar and Rex, two of our Spot robots, gave live presentations and supported our lectures with "hands-on technology". In Cologne, at the VdS Security Conference (21.06.), we provided information on the topic of "Robots in security services, using the example of the all-rounder Spot", and naturally hit the nerve of the experts on site. When it comes to increasing the quality of security services, sustainability and cost efficiency, robotic system solutions are now almost without alternative. This is all the more true when it comes to damage prevention, such as preventive theft protection.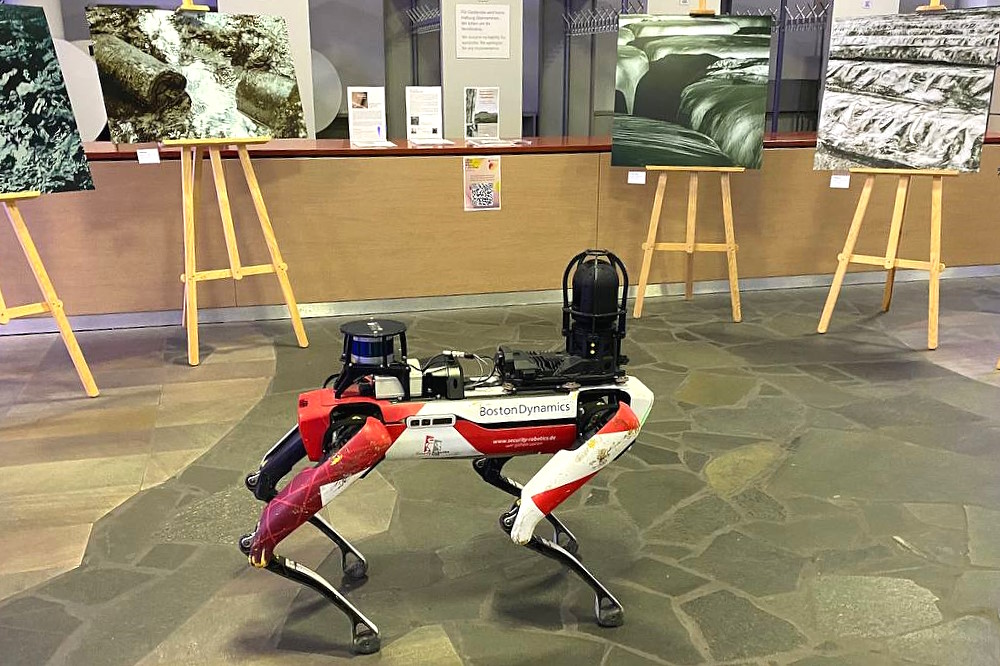 Two days later (23 June), the Long Night of Science took place in Leipzig, an event that has a strong focus on the Science Park, attracted hundreds of visitors like every year and was organised by the Berufsakademie Sachsen / Studienakademie Leipzig. Fittingly, it was our BA student who enlightened the mostly peers about "The digital transformation of the watchdog." and had the appropriate robotic variant with him in the form of an effective spot.
The highlight of the month was clearly the Security Robotics Innovation Days. Scheduled as a 3-day specialist event (27-29 June), this time the focus was less on individual models, but rather on the interaction of various actuators, robotic models, stationary technology, solutions in perimeter protection, interface, network and software topics, including the practical use of our ACUDA platform and the NUCRON IoT injector. Our systems acted confidently both completely autonomously, as triggered reaction means or manually controlled support systems.
They were particularly impressed by the outstanding integration capability of the presented robot portfolio with our systems, the possibility of seamlessly integrating this technology into existing safety infrastructures and the resulting automation solutions.
For all those who were unfortunately unable to attend, we will soon be reviewing the Innovation Days in more detail.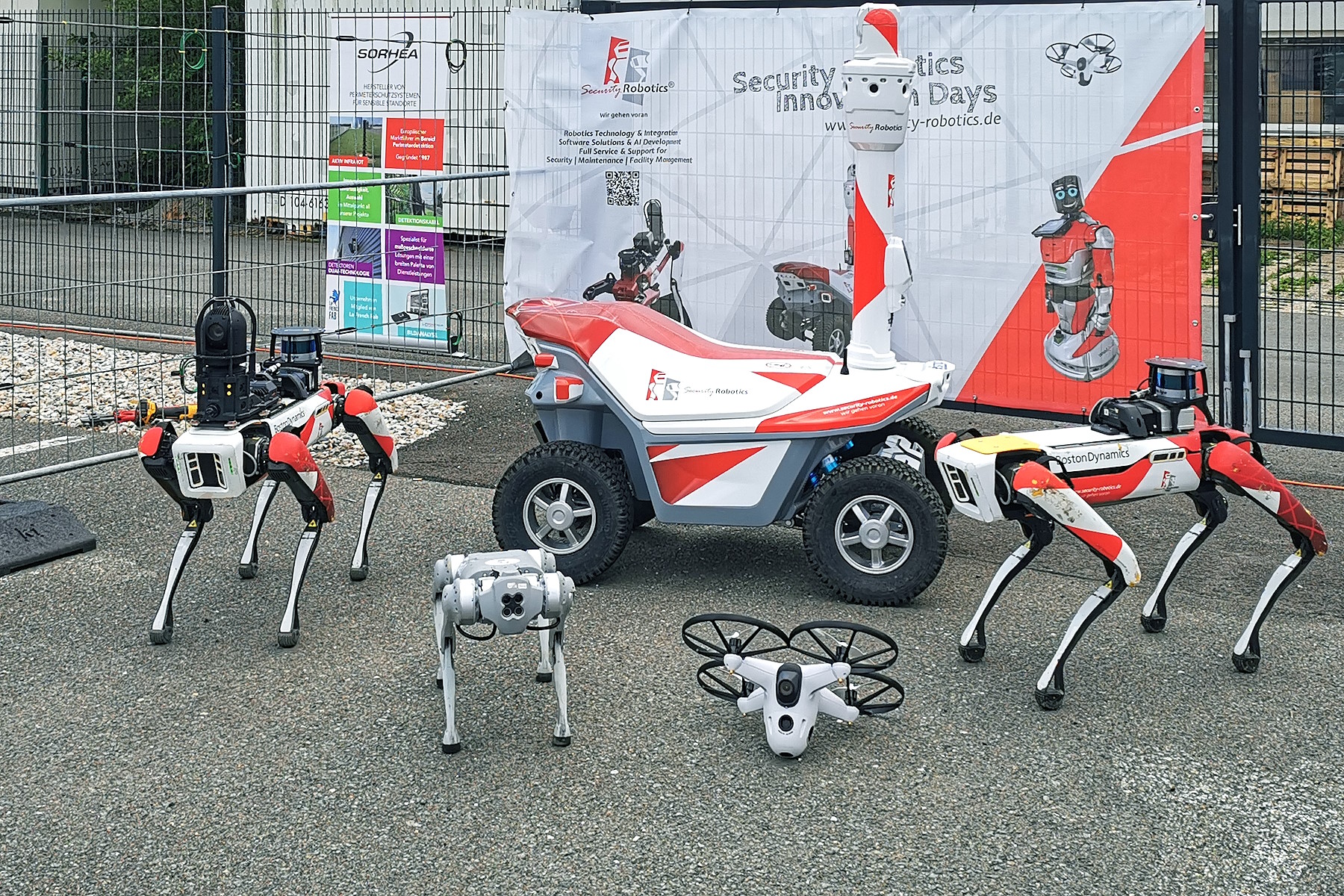 And our conclusion?
The roadshow was equally well received everywhere. Whether it was pure fascination, technical enthusiasm, professional interest or project-related questions, we always found ourselves in intensive discussions.
And in 2024? Hopefully there will be a new roadshow, perhaps also in your area. Stay tuned!