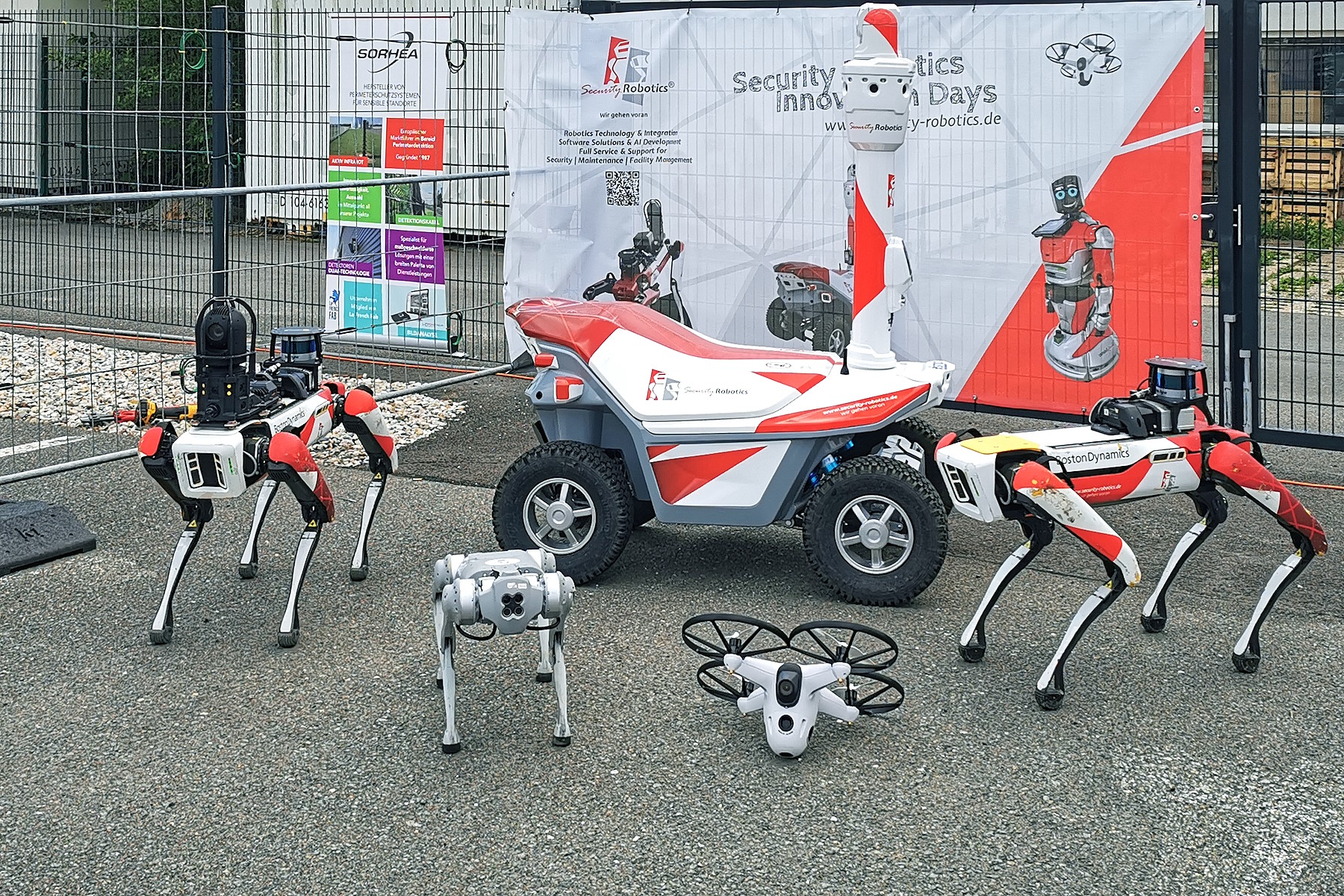 Information / knowledge / insight can also be obtained virtually in a variety of ways: via podcast, by reading a brochure, visiting a website and informative phone calls / video calls, etc.
However, none of this can replace the personal impression and up-close, direct contact with our innovative technology, robotics, the view of live data streams and live reactions of all robotic, sensory and software systems.
And so it was no wonder that the Innovation Days (ID) took place for the 4th time this year and, thanks to the great interest, over 3 days (27-29 June).
Preparing…
As the saying goes: "After the event is before the event." We drew our conclusions from the ID 2022, took notes and, of course, successfully added new products, solutions, references and innovations to our portfolio since then. The Innovation Days would therefore no longer be held as a classic product presentation with lectures, but would instead have a more experiential character, with practical live demonstrations, the integration of external devices & sensors, partner solutions and an open look at our own developments such as ACUDA, NUCRON and ROI.
In the weeks leading up to the event, we developed the right concept, tested both hardware and software and prepared everything organisationally. Everything was ready in time for 26 June and the weather also promised perfect conditions for the Innovation Days.
Smart partners for a safe future: robotics + sensor technology + AI software
Using our entire site, ARGUS and SPOT followed autonomously defined routes, demonstrating how agilely and independently obstacles (e.g. the participants present or their now parked vehicles) can be recognised and avoided. Both systems, as well as the BEEHIVE drone system, which served as a lightning-fast response tool in this scenario, were part of a shared security network, centrally controlled by the ACUDA Core.
Other walking robots (SPOT No.2 and Go1) served as manually controlled demonstration objects and demonstrated, for example, their all-terrain mobility, stair climbing, etc. Finally, the eloquent Promobot had found a suitable place in the foyer, greeted our guests every morning and was also available as a dialogue partner, e.g. during the lunch break.
"I was particularly impressed by the outstanding integration capability of the presented security robots with your systems. The ability to seamlessly integrate this technology into existing security infrastructures offers great potential for more effective security monitoring. The applications presented and the possibilities for automating security tasks made a lasting impression on me."
On all three days, visitors showed the greatest interest in the manipulation and intrusion tests, which were carried out several times and in a wide variety of ways. For this purpose, we equipped a section of our fixed perimeter fence and some construction fence elements (used for temporary demarcations) with the G-Fence 3000 sensors from our partner Sorhea and integrated them into the network. Even cautious touches and wobbling – as happens during climbing attempts – on the fence elements were registered immediately. The robots on patrol then immediately interrupted their routine and headed for the section in question with pinpoint accuracy.
To simulate other forms of intrusion, bolt cutters and Akkuflex were used, tools that are also used, for example, by the "last generation" when illegally entering airports and KRITIS sites. But no matter how carefully they worked here, the sensors sounded the alarm.
To verify the alarm directly, a highly equipped drone took off within a few seconds and immediately began transmitting data and analysing the incident with AI support. Our guests were visibly impressed by the speed and precision of the drone system and its ability to be integrated into the customer's security structures.
The added value and thus also a noticeable cost saving coupled with the qualitative "level-up" of security clearly results from the interaction of the components and thus 24/7 technical support for security personnel in decision-making positions.
Conclusion…
From our point of view, everything went perfectly: organisationally + technically. Our guests were interested, curious and we found ourselves in a large number of technical discussions, delved into details, answered questions and received valuable and positive feedback directly on site or afterwards. For all those who didn't make it: the Innovation Days will continue and we will do everything we can to ensure that all guests go home with an "aha" experience and a good understanding of the necessity of using AI + robotics.