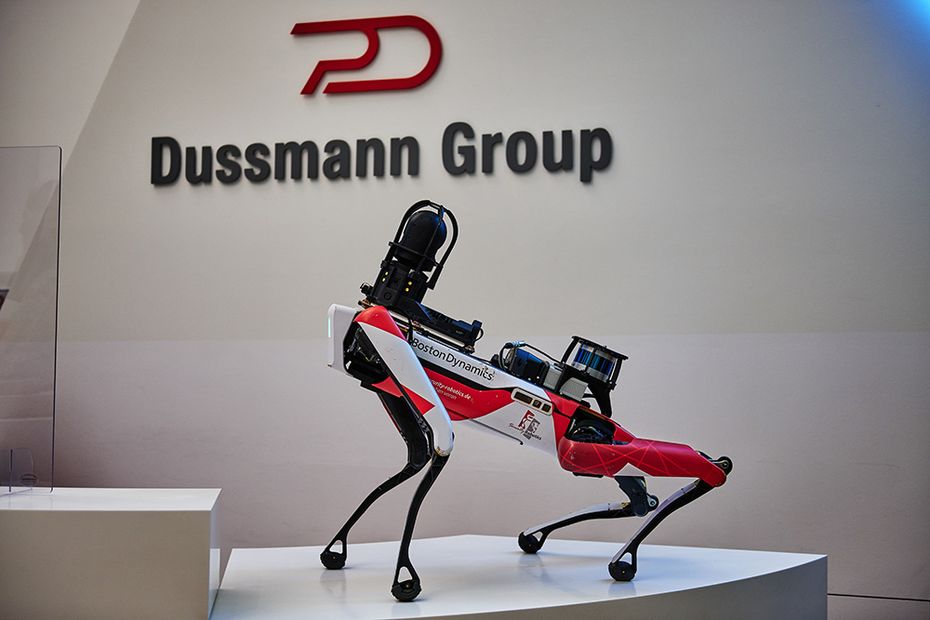 Security Robotalk:
State-of-the-art robot solutions for the modern facility management specialist Dussmann Service
New technologies are conquering the world, gaining more and more importance in the course of digitalization – also in the facility management industry. The globally active facility management specialist Dussmann Service relies heavily on innovations to make its processes more efficient and to offer its clients modern solutions. In the tech company Security Robotics, Dussmann Service sees a strong partner in the area of integrated security solutions. This partnership was expanded at the Dussmann Autonomous Day.
On 14 April 2021, Security Robotics presented its four-legged robot at the KulturKaufhaus in Berlin, which also belongs to the Dussmann Group. In the future, it will work alongside other service robots from Dussmann Service. The four-legged robot's diverse areas of application are interesting here: it can be used for patrols in security guarding – autonomously or as part of a team – as well as for measurements on systems, instruments and access control. AI algorithms developed by Security Robotics and in-house Big Data analysis help it to get better with every deployment. In addition, its four legs enable it to move in almost any terrain.
Dussmann Service is not only a client of Security Robotics, but also a valuable partner when it comes to gaining new insights. This is because new use cases and application possibilities arise in everyday operations, which help in the further development of all Security Robotics robots. There are also exciting new intersections and projects in the future that both companies are looking forward to.
Meanwhile, the robotics market continues to grow. Tech companies like Security Robotics regularly deliver new robot solutions and create new trends for all conceivable service and security areas – and at the latest since the political course has been set for the development of new technologies, it should be clear: This trend is irreversible. And in times of COVID-19, this upswing is accelerating once again: robots are popular helpers in everyday pandemic situations, disinfect rooms and surfaces and help people by advising them to wear mouth-nose coverings correctly.
However, in order for robots to move from being dull recipients of orders to becoming "self-thinking" and acting helpers, their artificial intelligence (AI) must be further developed. AI takes the functioning of the brain as a model, it tries to imitate human thinking as far as possible. The fact that AI has made such great leaps in recent years has opened up new possibilities, which Dussmann Service Deutschland and Security Robotics are now testing.
The intelligent robots from Security Robotics are prepared and supervised by in-house programmers, depending on their purpose. In addition to security tasks, the robots are increasingly being used in the service sector, where they serve, for example, as a friendly access controller in the reception area or as a multilingual guide. The areas of application are diverse, the demand is high. Thanks to the latest technology on board and ever new possibilities, we will continue to be able to report on exciting projects here in Security Robotalk.
About Dussmann Service:
Dussmann Service Deutschland GmbH is the next-level service partner for outsourced business processes in real estate management and supports clients from a wide range of sectors with integrated facility management or individual services such as building services, cleaning, catering and security and reception services. Dussmann Mobility Services GmbH (DMS) is a subsidiary of Dussmann Service and plans, installs and manages charging solutions for e-vehicles. With a focus on innovation, digitalization and technology, Dussmann Service develops customized concepts and solutions, close to the client and their industry-specific requirements. Dussmann Service is the largest business division of the international family-owned company Dussmann Group, which offers services for people with 64,500 employees in 22 countries.
CONTACT FOR PRESS & COMMUNICATION:
Michael Engel | m.engel@security-robotics.de
Landsberger Allee 366, 12681 Berlin
Telefon: +49 341 2569 3369