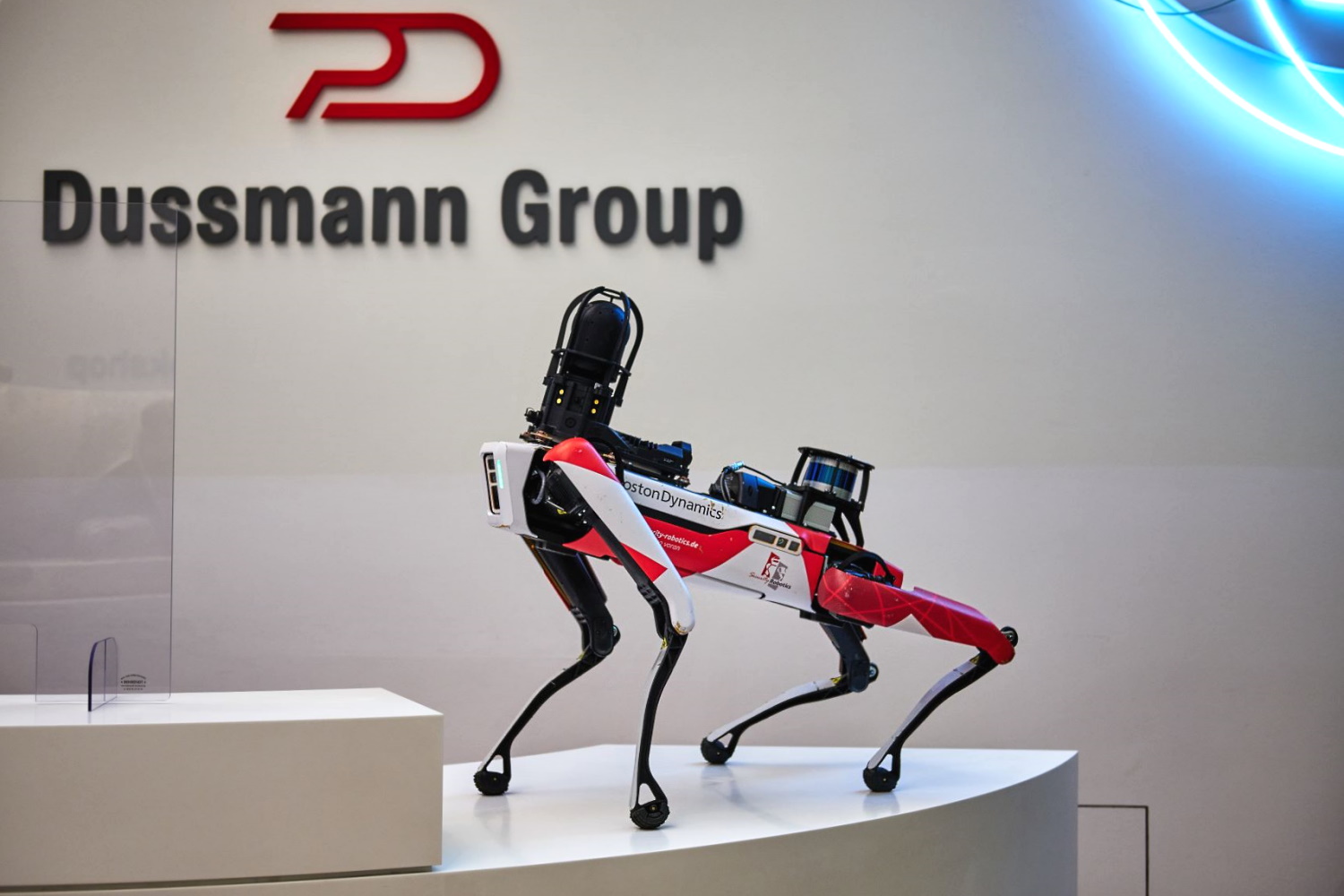 An ordinary morning in an ordinary company. An employee enters the main gate of the branch. His digital access authorisation is automatically recorded, verified and he can continue on his way without delay. Other employees approach with an unusual amount of luggage. The attentive security staff check it with tact and decide with common sense.
A group of visitors arrives in the foyer and the company's digital reception service, a smart robot, greets them as a matter of course. Thanks to maximum interactivity, check-in processes such as issuing visitor passes, answering questions, accompanying and guiding guests and much more are performed by the friendly Promobot – in a variety of languages.
Roboter chance the security branch for ever
The path across the company premises leads the employees equally past numerous fixed cameras and the loading areas of the mobile robot solutions monitoring the periphery. As an integral part of the security concept, the machines recognise the correct authorisation status and behave passively. At set times, the wheel-driven models, such as Argus, take up their routes, more attentive, tireless and networked than any human patrol.
On the stairs to the production hall, people are met by their digital colleagues. Walking robots, such as Spot, are regularly on the move, measuring, scanning, checking potentially dangerous sections and difficult-to-access routes in the production complex, thus ensuring the failure-free operation of the facilities.
Guests follow Promobot to the sparkling clean conference area, whose cleaning staff, energy- and water-saving Cleaning Robots have just glided out to the maintenance zones. Upon reaching the premises, digital presentation areas are automatically activated, the latest conference information is transmitted and refreshments are served by intelligent serving robots. Speakers at the event are automatically alerted to the arrival of their audience and rush over as a low hum briefly catches their attention.
A Beehive drone ascends for an inspection flight, hovers elegantly out of sight and unerringly heads for the extensive roof areas of the production halls. Drones of this kind have become a familiar sight, whether in facility management or as a manually controllable element of the integrated security concept. Even large areas can be checked quickly, efficiently and cost-effectively, incidents and alarms can be interpreted and all events can be followed / recorded live.
In the coordination centre, you observe the routine processes and the perfect interaction of man and machine, because the digital partnership of the future has long been the present. Also in your company?
Digitisation, more than a buzzword?
What still sounds like a difficult concept for many companies is already being filled with digital life by others. A pioneer of digitalisation like DUSSMANN is a good example of how the service industry must and will change. As a strong technology partner, Security Robotics provides the hardware and software services of a wide range of hybrid robotic solutions to lead your company into its digital future.
Talk to us!
CONTACT FOR PRESS & COMMUNICATION:
Michael Engel | m.engel@security-robotics.de
Landsberger Allee 366, 12681 Berlin
Telefon: +49 341 2569 3369