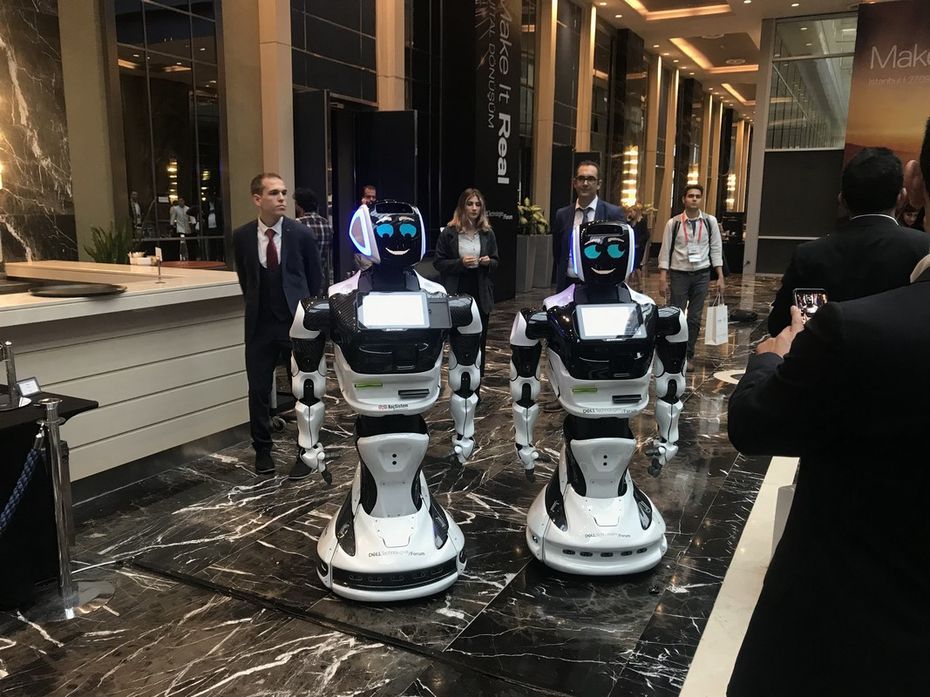 Security Robotalk:
Guard, measure, accompany – this is how Industry 4.0 is changing the security industry with robots
3 am. Large pressure vessels stand on a huge factory site. Silence reigns. Only a light rhythmic and mechanical tapping can be heard. It is the four-legged security robot from Security Robotics on its tour. With its highly sensitive sensors, it checks meter readings, checks whether security gates are closed and scans with thermal imaging cameras whether the premises are free of unwanted guests.
The fourth industrial revolution has begun: People, machines and products are working together more closely than ever before. Thanks to clever programming, new robots are taking over more and more tasks – from technical building management to reception services to security guarding. What feels like a trend today will be standard in a few years. And Security Robotics is shaping this standard – with robots that create entirely new opportunities for companies.
Industry 4.0 brings many advantages, but also requires companies to adapt. To keep pace, industrial production must be interlinked with modern information and communication technology. Digitally networked intelligent systems are the basis for modern efficient working. Artificial intelligence has arrived in the midst of the present and is on the verge of revolutionising the security industry. Security Robotics supplies versatile robots that are prepared for the respective application with the appropriate algorithms and customised AI.
The intelligent products from Security Robotics solve two challenges of our time: Firstly, they are constantly in use and measure and inspect 100% accurately – an indispensable factor for Industry 4.0, which is also reflected in measurable quality improvements. Secondly, the valuable human employees can be deployed elsewhere, where more responsibility is required. This mix of accuracy and productivity, as well as the optimal use of resources, makes the use of Security Robotics so attractive.
Security Robotics robots monitor premises, check and measure in workshops, receive guests, escort them from A to B, measure premises and machines and take care of access control. If they notice irregularities, they report them to the control centre and initiate previously defined protective measures. Contact us, we will find the perfect solution for your application.
CONTACT FOR PRESS & COMMUNICATION:
Michael Engel | m.engel@security-robotics.de
Landsberger Allee 366, 12681 Berlin
Telefon: +49 341 2569 3369