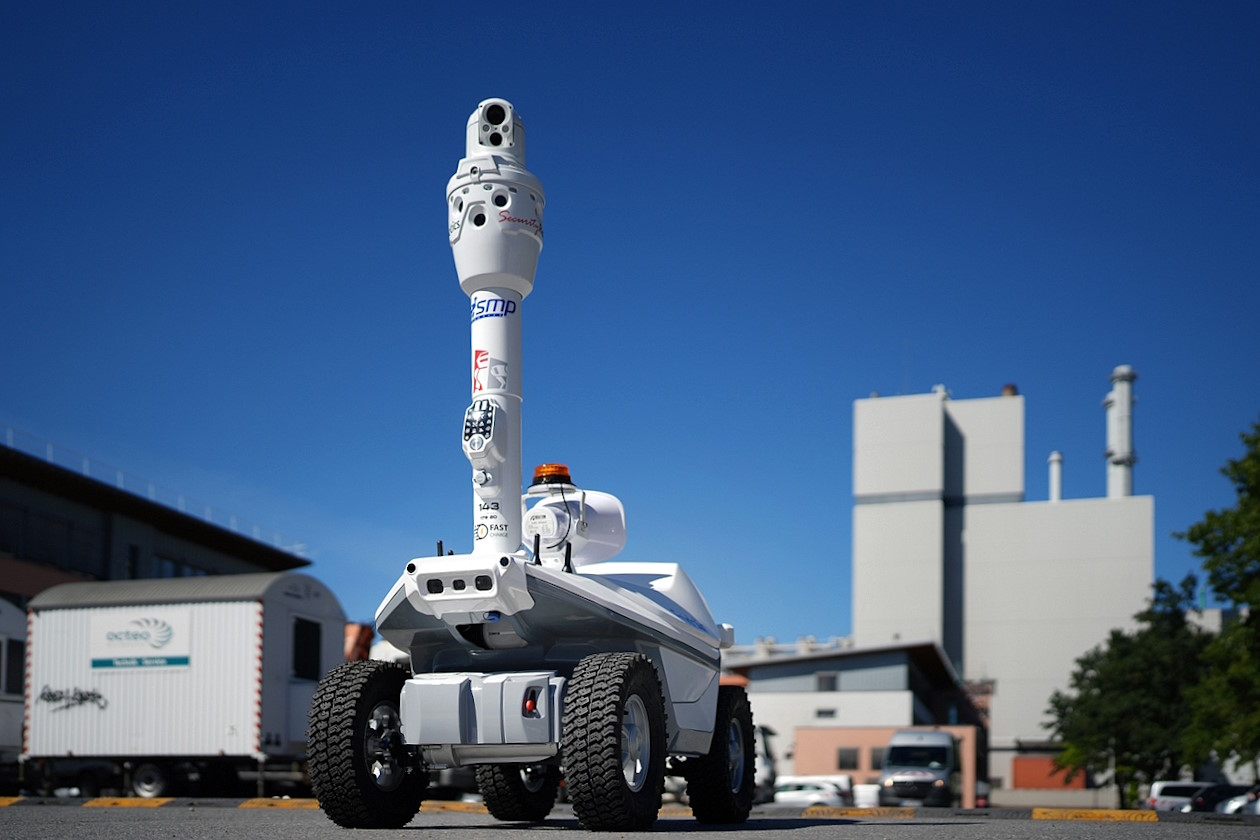 Securing critical infrastructures (KRITIS) is an existential task for every civil society if supply bottlenecks, disruptions to public safety and other dramatic consequences are to be prevented. Modern technologies, in particular autonomous robotics and AI-supported image analysis, are playing an increasingly important role in this context. In this article, we will highlight the importance and use of these technologies in critical civilian areas and show how autonomous robotics can increase safety and efficiency in this sector based on a joint project with Duisburger Versorgungs- und Verkehrsgesellschaft mbH (DVV).
Autonomous robotics for critical infrastructures
Critical infrastructures are organisations or facilities that are of vital importance to the state community and span various sectors, including power generation and distribution, telecommunications, water supply, logistics, medicine, chemicals and other industries. Securing these facilities requires advanced technologies that are able to respond effectively to asymmetric threats and ensure smooth (continuous) operation.
This is where autonomous robotics, also known as AMR (Autonomous Mobile Robots), come into play. These mobile systems can patrol independently and, thanks to their advanced sensors and camera equipment, recognise potential criminal activity, sabotage and theft at an early stage. Unlike human security guards, robots are unaffected by fatigue, lack of motivation, illness and other human limitations and offer significantly enhanced visual and acoustic perception in a 360° radius. Environments that are dangerous for humans, such as areas exposed to radiation or gas, are no obstacle to their use.
Networked security systems and AI image analysis
The effectiveness of the AMR is further increased by integrating it into the security network and utilising AI image analysis. All existing stationary and mobile security systems, including barriers, gates, fences, cameras and motion detectors, etc. communicate with the connected control centre and with each other via a central software platform. Even previously non-digitalised elements such as doors can be integrated into the network through IoT injectors to provide real-time information.
These networked systems utilise a variety of cameras and sensors, including 360° cameras, PTZ cameras, thermal imaging cameras and cameras with depth sensors. Image and video data is analysed with the support of AI algorithms. This enables reliable detection of people, vehicles, obstacles and much more. The security experts in the emergency call and service control centres are thus provided with a reliable source of data and a basis for decision-making.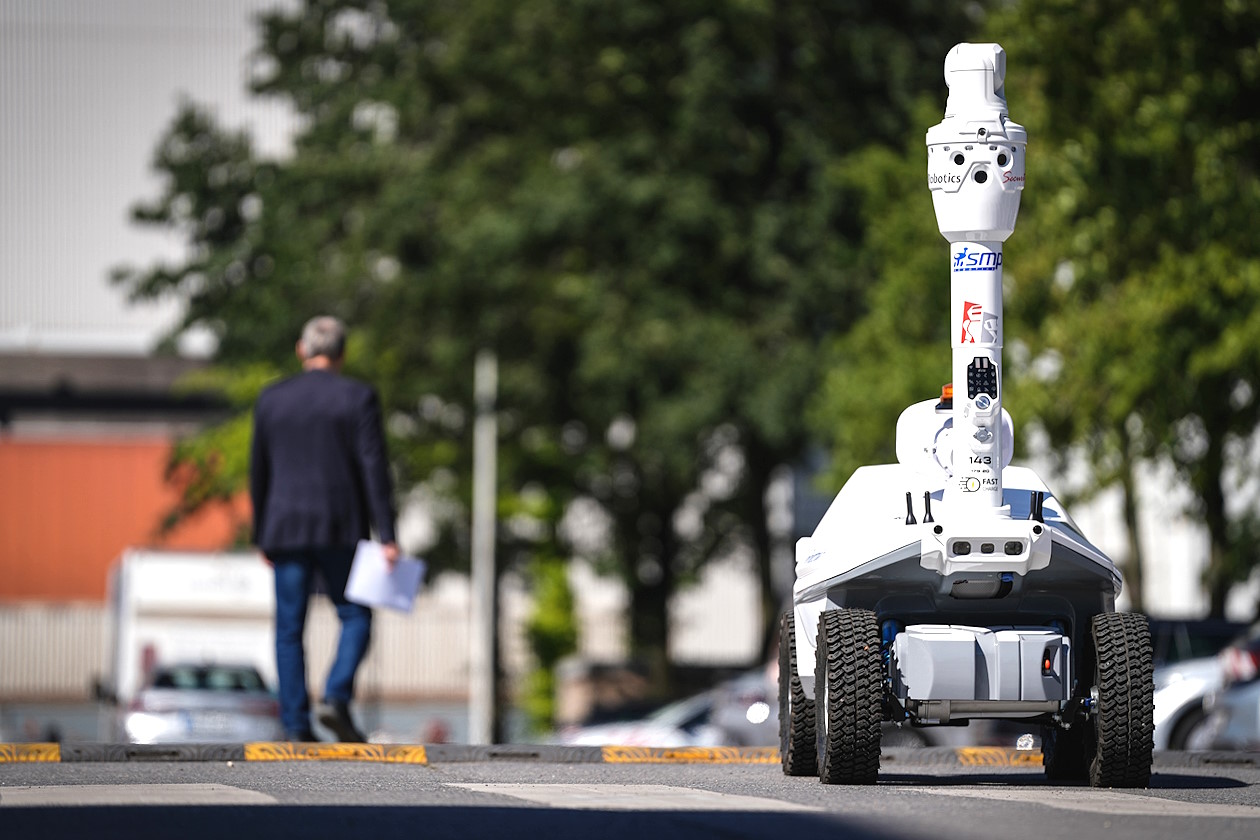 Practical example: "Fridolin" in Duisburg
As part of a pioneering project to secure critical infrastructures, Security Robotics has deployed an autonomous robot together with DVV. An autonomous ARGUS robot, affectionately christened "Fridolin", patrols the extensive premises on Bungertstraße and makes a significant contribution to the Duisburg-based company's corporate security.
The "Fridolin" robot has been equipped with sophisticated sensors and cameras, including panoramic cameras for 360-degree detection, a night vision camera with thermal detection, stereo cameras and wide-angle cameras for navigation. This equipment enables the robot to monitor its entire environment and navigate autonomously, even in difficult conditions such as darkness, strong winds or weather conditions such as rain and snow. In addition to GPS, the robot uses ultrasonic sensors, infrared technology and thermal imaging cameras to recognise objects and events that are difficult for the human eye to see.
Autonomous driving and innovative technologies have been important topics for the Duisburg-based multi-service company for years. The use of robots such as "Fridolin" shows the company's willingness to invest in modern solutions to improve safety and efficiency and also illustrates the enormous importance of these technologies for companies whose focus is on the safe supply of (Duisburg) citizens.
Our start-up worked closely with DVV on the design / integration / support to ensure that the robot optimally fulfils the specific requirements of the site. This project illustrates the successful partnership between established companies and innovative start-ups. It shows how modern technologies can help to make critical infrastructures safer and increase efficiency at the same time.
Dennis Franken, Project Manager & System Administrator Security Technology:
"We want to be involved in a topic like this right from the start. We want to learn and help develop things. That's why, as a municipal company, we work together with start-ups and design use cases that make sense for the companies in the DVV Group."
Autonomous robotics for specific requirements
The use of AMR is extremely diverse and can be adapted to the specific requirements of different critical infrastructures. Various types of autonomous robots are available for this purpose, including walking, travelling and flying models.
Walking robots such as Spot are particularly flexible and versatile. They can be used both indoors and outdoors and are extremely manoeuvrable and agile. These robots are ideal for monitoring indoor and outdoor areas and for detecting potential threats.
Mobile robots, such as the Argus model, are ideal for use in large outdoor areas, such as those found in energy supply, airports and large production and utility areas. With advanced cameras and sensors, including thermal vision and 360° cameras, they can operate reliably and with great endurance even in adverse weather conditions.
Flying robots, such as the "Beehive" drone system, offer fast response capabilities and an excellent "eye in the sky" overview. They are also ideal for aerial patrols and regular inspections of areas that are difficult to access.
AI image analysis for reliable safety
AI image analysis plays a central role in securing critical infrastructures. It accesses a huge amount of data and helps to reliably classify moving objects, whether they are people, animals, vehicles or other objects. Security experts in emergency call and service control centres need a reliable data source and basis for decision-making, where all facts and data have been collected, qualified and checked by the security systems and are available in real time.
AI image evaluation also offers a time advantage, as it is able to quickly analyse and evaluate movements and activities. This enables a swift response to potential threats, which is crucial in critical situations.
Current use of robotics
The use of autonomous robotics in critical infrastructures is already a reality and has proven itself in various scenarios. Patrol robots are used to secure the perimeter of extensive production sites in order to maintain an overview and respond to potential threats at an early stage. They also carry out autonomous patrols at energy suppliers and perform inspection tours of critical facilities.
Walking robots are used inside buildings to check hotspots such as entrances, control centres and units and to monitor the operating status. They are able to negotiate stairs and difficult ground conditions.
Drone systems such as "Beehive" offer rapid clarification of alarm messages, allow aerial patrols in areas that are difficult to access and enable buildings and systems to be inspected from the air.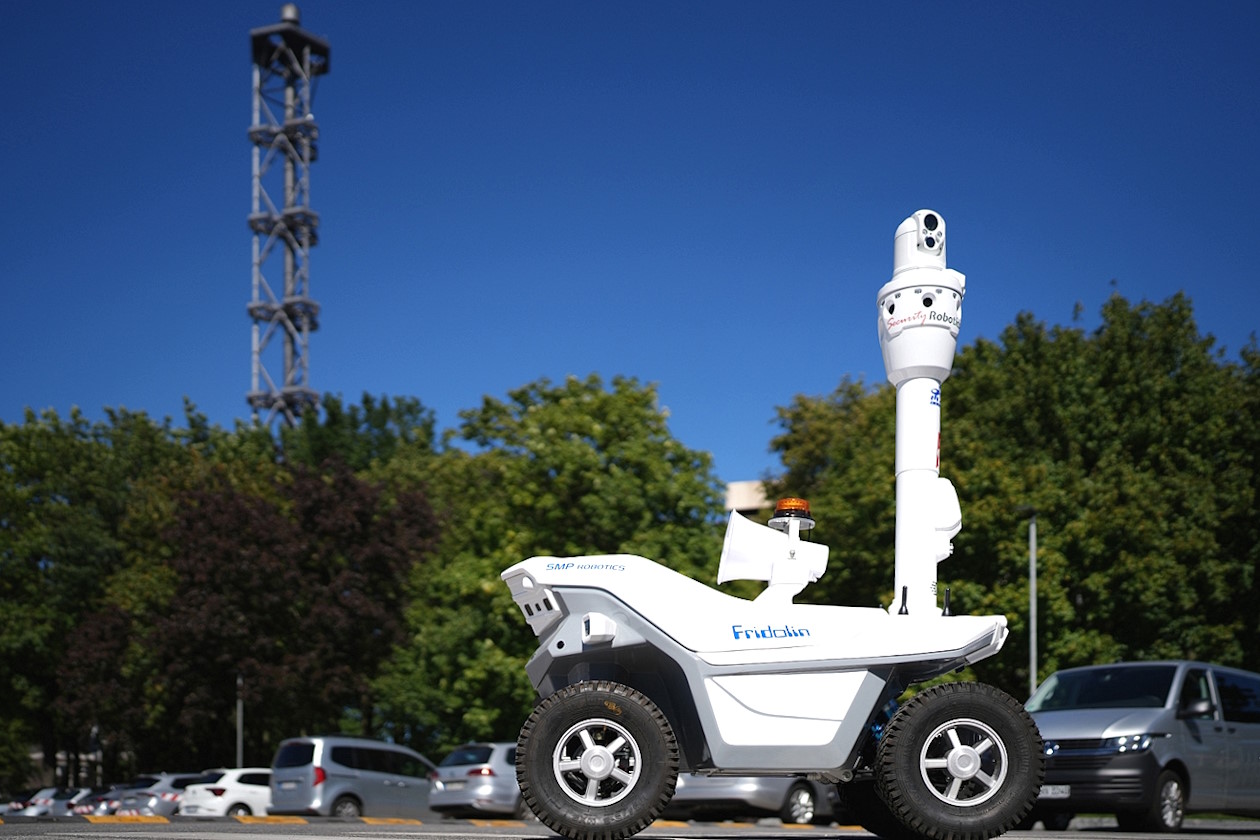 Challenges and solutions
Every critical infrastructure security project is unique and requires a customised approach. Geographical location, local characteristics, weather conditions, legal requirements and existing security concepts must all be taken into account. The challenge is to recognise all requirements, take them into account during planning and integration and involve all relevant technical experts and decision-makers.
The safety of employees is the top priority. Autonomous robotics can take over dangerous tasks and relieve employees of repetitive and risky tasks. Those responsible for occupational health and safety, data protection and personnel are involved right from the planning stage in order to ensure the safe and legally compliant use of robotics and data processing.
Transparent security concepts
The use of mobile systems and new technologies for security in critical infrastructures requires clear and well thought-out concepts. All autonomous systems and security systems operate within the framework of these concepts, in coordination with the legal regulations, operational requirements and special guidelines of the KRITIS objects. Location, status, data collection, storage, access, control and more are always traceable and transparent.
AMR are designed to avoid obstacles, adhere to defined behaviours and have no "self-will". This minimises risks for people and the environment and ensures that the systems work safely and reliably.
Future prospects: The development continues
The dynamics in the world of security robotics and networked systems are impressive:
Movement: The drive concepts of robots are constantly evolving. This includes not only energy efficiency, but also the ability of robots to move in different environments. This enables them to be used in ever more diverse scenarios.
Sensor technology: The sensors and cameras used by robots are constantly being improved. This means more accurate and reliable information capture. New sensor technologies are expanding the possible applications of robots.
Use cases: New use cases are constantly being defined, tested and ultimately established as the industry standard. This leads to a constant expansion of the possible applications of autonomous robots and networked safety systems.
Digital networking: The digitalisation and even closer networking of systems enables a more efficient and sustainable use of mobile systems and the data collected. This improves the efficiency and effectiveness of security measures.
Personnel: The use of robots can help to actively counter the shortage of skilled labour and avoid bottlenecks. Trained employees can concentrate on more demanding tasks, while autonomous systems take over repetitive and simple tasks.
Quality: The experience and knowledge gained from the use of robots contributes to the continuous improvement of the safety of critical objects. Safety concepts and services are utilised more efficiently and with fewer resources, and are easier to scale and adapt to changing requirements.
More security in critical infrastructures
In times of geopolitical tensions and increasing crime, the security of critical infrastructure is of vital importance. Without the use of innovations, security gaps and disruptions in protected areas will inevitably occur. The decisive leap in quality, i.e. a cost-efficient, false alarm-reduced, reliable high level of security, is achieved when all the measures mentioned – and this includes the technical side such as software solutions and hardware technology (robots, drones, sensors, cameras, etc.) PLUS trained personnel on site – work as an integrated system: together, complementing + supporting each other.
The future of security in critical infrastructures lies in the integration and further development of modern technologies. Autonomous robotics, networked security systems and AI image analysis are the cornerstones of this development and will help to protect critical infrastructures in times of increased risk and uncertainty and ensure uninterrupted operations. The "Fridolin" project in Duisburg shows that these technologies can already be successfully implemented in practice and make a decisive contribution to security in the KRITIS sector.